If you need to edit or manipulate a photo or other image, in all likelihood you've considered using Adobe Photoshop to do so. First released almost thirty years ago, this powerful editing software is preferred by some of the world's top designers and can be utilized to create almost anything the imagination can conjure up.
Adobe Photoshop is so popular that it has become a verb 'to Photoshop' is now shorthand for editing an image. Although this could give the impression that Adobe's got the market sewn up with its Creative Cloud packages, this is not true at all.
Photoshop is pretty expensive! You might not want this heavy-weight software to perform your daily picture manipulations, your social media photos or your photo editing jobs.
The wide array of features Adobe Photoshop's offers will keep this tool the professional's choice, but the rest of us have a superb selection of free and cheap programs like photoshop.
As an instance, few photo editing software like Photoshop supports the default PSD format of the Adobe application. Others won't be able to recognize some multi-layered Photoshop files.
Here are the Best Free Photoshop Alternatives for 2018 which are cheap and even free. Check out them, and tell us which you like in the comments below which one is your favourite.
Best Free Photoshop Alternatives You Should Try
Krita has won several applauds for being one of the best image editing tools, based for the open-source platforms like Linux and Unix. The tool comes as a bundle with the KOffice suite and is a great choice for all your image editing needs on an open-source platform. Although lacking in quite a few departments when compared to Photoshop or GIMP, this free tool is in it own rights makes up for one powerful image editor.
Supported Platforms: Windows, Linux, BSD, Unix.
Key Features: 
Supported File Formats: Any Windows-compatible media format
Price: Free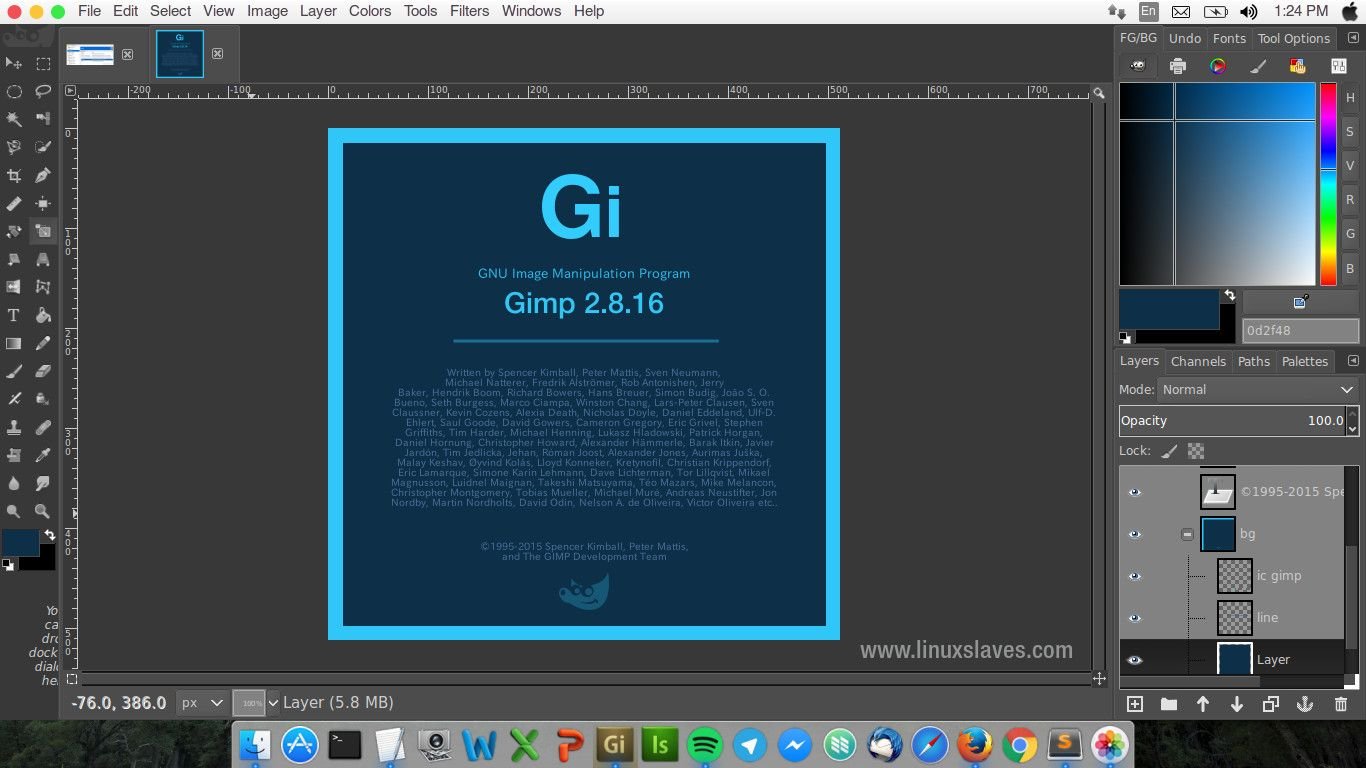 Flexible and powerful, GIMP is the best Photoshop alternative. With advanced filters, masks, layers, colour adjustment, and transformations — all of which are customizable.
As like other open-source programs GIMP's core is created, updated and maintained by a community of developers using an assortment of coding languages. For this reason, it's a thing that is gorgeous!
One of the greatest features of GIMP is its abundance of scripts and plugins. Some of them replicate popular Photoshop tools (like Liquify), and there is a bundle of animation tools for bringing your photos to reside through blending and morphing. You can add GIMP and Photoshop plugins if that is not enough.
Do not worry if that all sounds a bit intimidating — GIMP user manual comprises troubleshooting guides and tutorials to get you started.
The newest version of GIMP provides a brand new interface that puts all of menus, palettes and its tool boxes together. This gives a Photoshop-like look, though its patchwork of tools means you will need to devote some time experimenting and perusing the documentation to understand how to get the best results to it.
With its grip over an array of operating systems and community, GIMP stands out as the best free alternative to Photoshop. Even though it does not offer features like Photoshop, it possesses features to allow you to edit your photos with a stint of professionalism to it and in a breeze.
Recommended For: Good for professionals and semi-professionals as the complex tasks can be achieved with this tool.
Compatible Platforms: Linux, Windows, Mac
Compatible File Formats: JPEG, PNG, TIFF, RAW formats, BMP, GIF, PSD, etc.
Online or Offline: Offline (Desktop based).
Price: Free
A browser-based alternative to Photoshop, Pixlr is owned by well-known software developers Autodesk and is quite robust when it comes to available features and allows for progressive editing and enhancing as well as original image design.
The Pixlr Express and Pixlr Editor web apps will run in most modern browsers as long as you have Flash 10 or above installed, and offer a significant number of integrated filters along with limited layer support.  Pixlr recognizes the main culprits when it comes to graphical file formats such as JPEG, GIF and PNG and also allows you to view some PSD files, although those larger in size or complex in nature may not open.
The web-based Pixlr even has a handy Webcam feature built right into its dashboard that lets you capture and manipulate photos on-the-fly.
In addition to the browser version, Pixlr also has free apps for both Android and iOSdevices that let you perform a number of editing features from your smartphone or tablet. The Android app is so popular, in fact, that it has been installed on well over 50 million devices.
Compatible With:
Chrome OS
Linux
macOS
Windows
Android
iOS
If you haven't heard of Photo Pos Pro, you're in for a treat. This free Photoshop alternative aims to give the best of both worlds, offering interfaces for both novice and advanced users. The novice option puts one-click filters and automatic adjustments at the fore, while the latter closely resembles Photoshop. Both are well designed, and more intuitive than GIMP's endless lists and menus.
Like Photoshop, Photo Pos Pro offers both layers and layer masks, as well as superb clone and healing brushes. All the expected color-refining tools are present and correct. There's support for batch-editing and scripts to save time on routine tasks, you can import images directly from a scanner or camera.
Photo Pos Pro offers plugins in the form of extra frames and templates, and you can create and save your own filters for future use.
Its main drawback is the limit on the size of saved files (1,024 x 2,014 pixels), but if you like the basic version and want to upgrade, Photo Pos Pro Premium is currently discounted to £17.67 (US$20, AU$30) – a very reasonable price for a top-rate Photoshop alternative.
Adobe Photoshop Elements isn't Photoshop, but many people will find that this app has everything they need for image management and editing. Yes, it's a stripped down version of Photoshop, but it's also a powerful image editor in its own right. If you want an editor to manage your own photos, or a good editor to create images for social media, Elements is your perfect choice.
You'll appreciate Elements' layer support, because Adjustment and Blend layers can quickly take an image from ho-hum to spectacular. Anyone who's new to image editing will appreciate Elements' Guided mode, which does as its name suggests: it shows you how to perform editing tasks, which are new to you, without leaving the app.
As you can see from our list, there are many Photoshop alternatives. Experiment to see which ones you can integrate into your own workflows. You may find, as I do, that using a combination of several of the above apps lets you do all your image editing without ever opening Photoshop.
A free Photoshop substitute that has a little light on features, but easy to grasp. This open source Photoshop alternative Paint.NET began life as a replacement for MS Paint, but over the years it has become a powerful picture editor.
Like GIMP and Photo Pos Pro, Paint.NET provides an exceptional choice of automatic filters, also manual editing tools for fine adjustments. Though you will want to install a plugin for masks, layers are also supported by it. Default includes batch editing, and its stamp makes it effortless to erase distractions and blemishes.
Paint.NET is a particularly excellent Photoshop alternative for working with several photos because of quick-access tabs which use thumbnails to represent each clear picture in a glance.
It's also extremely fast and runs well even on PCs. Although there are no restrictions on the size of images stored, it requires place because of its range of customizable tools and options.
While it doesn't provide all of the GIMP's heavy-duty editing tools, Paint.NET's easier to learn. You will have the ability to get results with this program if you're completely inexperienced with picture editing.
If you are on Windows and require a fantastic program like Photoshop, give Paint.NET a go.
Recommended For: Windows users and those who are completely inexperienced with picture editing.
Compatible Platforms: Windows
Compatible File Formats: JPEG, PNG, TIFF, RAW formats, BMP, GIF, etc.
Online or Offline: Offline (Desktop based).
Price: Free
7. Paintshop Pro X7
With a lot of image editing and graphics tools under its belt, Paintshop Pro comes from Corel. This cost-effective tool is one of the best cost-effective alternative to Photoshop, with a slick user interface and a much attention being dedicated to photography. The built-in library of tools and brushes can be easily extended by plugins which are also supported on Photoshop. Its sophisticated tools and realistic brushes make it a great Photoshop alternative, developed by the maker of Painter.
Supported Platforms: Windows
Key Features: Magic Fill, Brushes, Text/shape cutting, Colour Material palette, enhanced dialog boxes, etc.
Supported File Formats: RAW formats, BMP, GIF, JPEG, PNG, TIFF, PSD, etc.
Price: $63.99
Adobe Photoshop Express is a lightweight version of the industry-standard photo editor available free for your browser, and as a downloadable app for Windows, iOS, and Android.
 Photoshop Express is the simplest of the tools here, but Adobe's expertise in photo editing means it's far superior to other quick-fix software. It packages Photoshop's most useful picture-enhancing  sleek, minimalist interface that's particularly well suited to touchscreens. Sliders enable you to adjust contrast, exposure and white balance of your photo dynamically, and there are automatic options for one-click adjustments. Once you're satisfied with the results, you can either save the edited photo to your PC or share it via Facebook.
The main appeal of Photoshop Express is its simplicity, but this is also its biggest drawback. There are no layers, plugins, or brush tools, and you can't crop or resize your pictures.
If you're looking for a powerful image editor for your smartphone or tablet, Photoshop Fix (for restoring and correcting images) and Photoshop Mix (for combining and blending images) are also well worth investigating. Photoshop Mix even supports layers, and both apps integrate with Adobe's Creative Cloud software, making it an excellent counterpart to the desktop version of Photoshop, as well as a superb tool in its own right.
9. 
Pic Monkey
Another platform-independent, web-based design and editing tool with a lot to offer is PicMonkey, which was seemingly designed with the neophyte user in mind but also packs a punch for those looking for more state-of-the-art features. As long as you have a browser running Flash, PicMonkey is accessible on virtually any platform and lets you start your creation from scratch or begin editing an existing image file in under a minute.
PicMonkey will not replace Photoshop's more advanced functionality and you won't have much luck with PSD files, but it is ideal for working with filters and even creating collages from within your favorite browser. The free version offers quite a bit in terms of features, but you'll need to pony up some cash if you want access to some of the app's exclusive effects, fonts and tools as well as an advertisement-free experience.
The premium adaptation of PicMonkey features a 7-day free trial that can be activated by providing your email address and payment information. If you want to continue using its advanced functionality long-term, though, a monthly fee of $7.99 or $47.88 for an annual membership is required.
With an oft-updated blog featuring a bevy of tips and tutorials, you should be able to figure out whether or not PicMonkey is the right option to suit your needs within the week-long trial period.
Smartphone and tablet users may also want to try the free PicMonkey Photo Editor app, available for both Android and iOS platforms.
Compatible With:
Pixelmator is a paid alternative to Photoshop for those based on Mac OS X. This tool offers support for both the latest Mac OS X Yosemite and the iPad. This is a full-featured image editing tool for your Mac-based system. The advanced technology used by this tool makes the entire image processing on your system even faster than ever before. The fast and fluid image editing tool is something every pro designer would prefer at any given time. By being cost-effective when compared to Adobe Photoshop, Pixelmator is a full-blown alternative to Photoshop you should definitely consider, given its extremely low pricing.
Supported Platforms: Mac OS X
Key Features: Texts, Shapes, Sketching, Painting tools and Brushes, Colour adjustments, Retouching, Effects, etc.
Supported File Formats: RAW formats, BMP, GIF, JPEG, PNG, TIFF, PSD, etc.
Price: $29.99
SEE ALSO : Top 10 Best Photoshop Websites And Blogs To Follow in 2018
10 Best Free Photoshop Alternatives You Should Try