There are countless Best Photoshop Websites and resource videos online for burgeoning artists and bonafide designers alike, but with the sheer amount of resources at your disposal choosing the right one can be overwhelming. Adobe, the product's creator, is an obvious Photoshop resource. But if you're looking for other great options there are plenty of styles and approaches of Photoshop tutorials online. Narrow down your search for the perfect tutorial with these terrific resources and master your craft in no time.
Top 10 Best Photoshop Websites And Blogs To Follow in 2018
We always want to look cool in our photos because we share it on all social media networks like Facebook, WhatsApp, and many others. For that, we keep on editing photos to make them look good.
If we talk about Photo editing tools, the first thing that strikes the mind is Adobe Photoshop. Photoshop is one of the reference names in the segment of image editing software.
We must admit that Photoshop is hard. The are various type of commands, actions, effects, and tools available which makes it complicated. However, you don't need to be a professional graphic designer or digital marketing expert to learn how to use Photoshop.
There are tonnes and tonnes of photoshop tutorials out there, which is both a good and a bad thing.
The bad thing is you might not know which ones are for beginners or amateurs or experts. But I guess It's not a big issue. Once you keep reading a few articles you'll automatically get an understanding of what's good and what's bad.
The good thing is- you'll easily find tutorials for your specific needs, which is great! Now-a-days you'll surely find a tutorial for almost any specific tool or requirement.
This article we have decided to collect good and also popular Best Photoshop Websites which offer high quality Photoshop tutorials. So lets get started.
Now a brand encompassing DVDs, eBooks, and mobile apps, Photoshop Creative has been a trusted source of Photoshop tips, advice, and lessons since 2005. The site features 84 pages of Photoshop tutorials that instruct viewers on specific techniques, and on building an image from scratch. There's plenty of content to sift through – a new tutorial or tip is uploaded every two or three days, ensuring up-to-date instructions.
Photoshop Creative has the added perk of being free to access, unlike many of its competitors. The tutorials and tips, Q&As, and How I Made featurettes are all available at no cost.
PSD Tuts is the best online design Photoshop resource for designers looking to learn Photoshop or even master Photoshop. PSD Tuts is such a great Photoshop resource because its updated frequently and produces high quality content, i recommend you checking it out if its your fist time hearing about it.
Tutorial King is another one of those blogs which are not very well known, but hold a mine of information and resources. All the tutorials are extremely enticing and still teach solid tips and techniques that can be applied to other projects or in other situations. The tutorials are either completely original in terms of their concept, or they take an already established trend and demonstrate how they can be used in a completely innovative way. Some of the techniques are so inspiring that they leave readers wondering why in the world the Internet is not flooded with similar tutorials.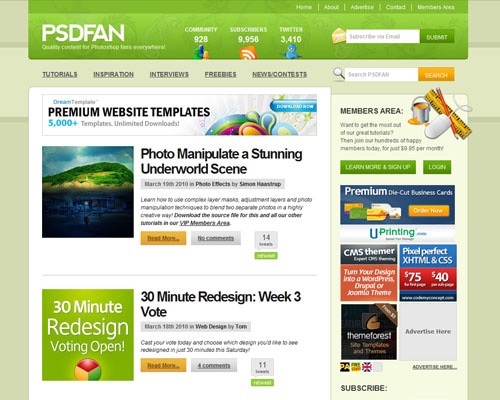 As you may have guessed from the name PSDFAN provides Photoshop tutorials. However, i want to stress that this is just not simply another tutorial website.
A well-organized trove of Photoshop tutorials and tricks, PS Hero has its lessons and tips categorized for optimal navigability. Access lessons on text effects, graphic design, photo effects, or shorter tips and tricks with a few clicks. An added bonus: PS Hero stores a cornucopia of "goodies," providing free downloads of custom shapes, photo borders, holiday card templates, and a scrapbooking alphabet optimized for Photoshop.
The man behind the website, named Hero, admits that he doesn't update the site every week, as his passions include surfing, snowboarding, and generally getting out of the house. But he doesn't charge a fee to view his content, so all tutorials are 100% free.
If you are looking for a simple way to learn photoshop then Photoshop Cafe will be the best choice for you. This website keeps the tutorial short and direct. So, if you are beginner then you will find Photoshop cafe's tutorials easy to implement.
This one-stop-shop features the dynamic and captivating Aaron Nace as he teaches visitors beginner and advanced Photoshop techniques. The free tutorials capture your attention (Nace is a natural speaker with a comedic streak) and they provide thorough instruction for all levels of experience.
Phlearn is also home to plenty of terrific photography tutorials for the budding shutterbug. The sheer volume of lessons and the excellent presentation are worth a visit.
Well, UDEMY is very much familiar to the online learners. However, if you dig deep, you can find numerous free options which are focused on Photoshop itself. Not only these, you can also raise general questions regarding Photoshop in the Udemy community.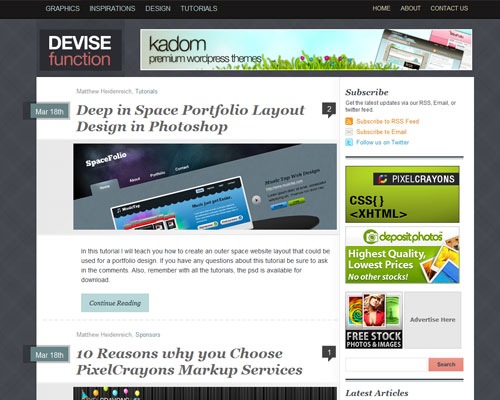 DeviseFunction was launched in January 2010 by professional web designer Matthew Heidenreich.  He currently runs and operates the website providing tutorials and resources to developers and designers across the web. The Design tutorials on Devise Function are userally Photoshop web design tutorials which are pretty cool.
This is another Best Photoshop Websites which you can visit if you want to learn Photoshop online. The best part about PluralSight is that it offers a wide array of Photoshop tutorials and courses which you can download and learn.
These are the five best resources available on the web that can help you to learn photoshop for free. Hope you like the article, share it with your friends too!
10 Best Photoshop Websites And Blogs To Follow in 2018